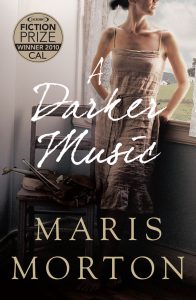 When Mary Lanyon takes on the job of temporary housekeeper at Downe, a famous Merino stud, she is looking forward to staying in a gracious homestead with the wealthy Hazlitt family. The owner's wife, Clio, has been ill, and Mary's task is to get the house back into shape in the lead-up to the wedding of the only son and heir, Martin.
When she arrives, however, Mary realises things are not right. Clio Hazlitt rarely ventures from her room. The house is shabby, redolent of dust and secrets. As a friendship develops between the women, Mary discovers answers to the questions that have puzzled her: What is the nature of Clio's illness? What has caused the grim estrangement between Clio and her husband? And why did Clio give up playing music, when she says it meant so much to her?
A Darker Music is a gripping mystery that takes you into the heart of rural Western Australia, and into one family's troubled past.
Available on Amazon, Kobo and the iBookstore
Published by Scribe Publications